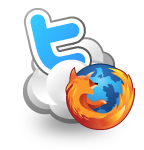 Last week I wanted something that could easily Tweet sites that I'm reading and be able to add text or notes along with that particular Tweet. Luckily, I found Cloudberry's Tweet Fox Add On.
This add on is absolutely great. You simply highlight some text on the page you're visiting and click on the Tweet Fox icon on the upper right hand corner of your Firefox browser. I small pop up application window will appear with the text you highlighted in the edit box. You can add additional text to your tweet, and add the shortened link to the site.
Once you're all ready, you simply click the "Tweet" button, and the tweet will be posted to your profile. You can manage your various Twitter accounts as well. I've been having a blast posting sites I'm visiting and tweeting my own posts. I highly recommend this add on.. it's great!
You can read more about Tweet Fox here.