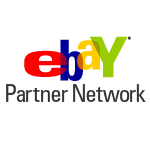 On July 17th Ebay Partner Network (EPN) announced some policy changes. They also mentioned that they are now requiring new applicants to verify at least one domain with their submission. It also states that existing applicants are not required, but is suggested they also submit their domains.
Here is the exact verbiage from their blog post
Domain Validation
In order to ensure the quality of traffic in our network, we're going to continue to work with our partners to get greater transparency into where your traffic is being sent from.  Beginning July 20th, all new applicants to the eBay Partner Network will be required to validate at least one domain during the registration process (this is standard practice in other large international networks like affilinet and Tradedoubler).

To validate a domain, you will have to upload a text file with a unique identifier we give you to the base directory of the domain.  You can find more detailed instructions on how to do this in the e-mail you will receive when you register or in the help documentation.

Although existing publishers are not required to validate their domains, doing so is a good idea, as it will help us know which domains you are sending traffic from and serve as additional information helpful in conversations with customer service or confirming your identity if your account has been compromised, etc.
To verify your domain, log into EPN and click on Account then Domains. You can submit domains individually or by bulk upload. Here are the exact instructions for domain submission:
Create a plain text file in a text editor and in the contents put only your unique identifier (provided on the 'Domains' page or in the initial email we sent).
Save the file as 'epndomain.txt'.
Upload the file to the base directory of each of your domains that you would like to validate.
Example: If your website is www.ebay.com, your file would be located at http://www.ebay.com/epndomain.txt.
Visit the Domain Confirmation Page when your domains are ready to be validated and click on the 'Confirm Domains' button.
It has been suggested by other EPNers to submit all of your domains. It seems to be a matter of time before they require it. Another question is do we leave the epndomain.txt file permanently on the server? Love to hear your opinions about this.