A friend of mine (@therealjosh) turned me on to a Twitter tool called Bird Feeder. I was interested in increasing my follower count, but wanted to avoid all the 'trashy' follow sites out there. Mainly because of two reasons.
Many of those sites require user/pass and not use oauth technique, which seems very shady to me
The quality of followers are horrible. They're unrelated to your niche or interest, just random people that want to increase their follow count
Now, Bird Feeder does require user/pass and not using oauth, but since it's software, I feel a little better about this. I could be naive about this, but thinking there is a database out there related to the the crappy follow places makes me nervous. A software application in my network puts me at ease better.
Okay, to the review. Bird Feeder is great because it does a couple of things really well. Primarily, you can search by words, phrase, or hashtags. Along with doing keyword lookups, you can follow by people. You can follow the people following them, etc.
Below is a screen shot of Bird Feeder's search screen.
You can schedule follows, so once a day this could be doing this work for you. That is the other great point of this tool, it allows you to be very productive while you're working on other things related to affiliate marketing. Twitter limits you to 500 follows in a 24 hour period, so it's set to follow 250 by default, and I would recommend leaving that there.
Along with follow searches, you can unfollow users, follow users that do not have the default Twitter icon and you can enter status updates all within the tool.
Bird Feeder is priced with two options. The Standard edition costs $59.95, which allows you to manage 5 Twitter accounts. The Commercial edition gives you all the same features as Standard but you can manage unlimited Twitter accounts. That Commercial edition costs $175.00. If you're interested, let me know and I can give you a coupon code for checkout that will save your $10.00.
I personally use the Standard edition for right now, but I have a feeling I'll be upgrading very soon.
Below is a screen snap of the Bird Feeder account management screen to manage your Twitter accounts.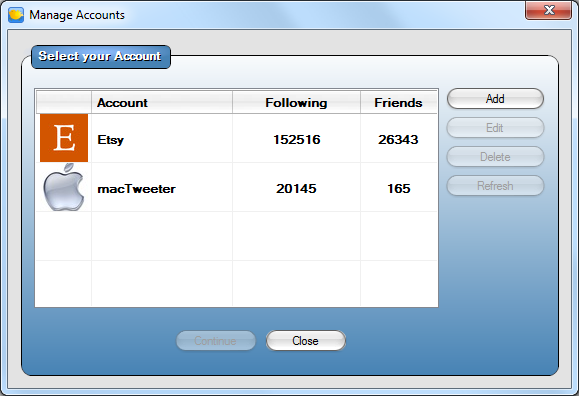 If you want to give Bird Feeder a test drive, they offer a FREE trial. I didn't not try the trial, so I don't know how long it lasts, but I really like this tool. Since I've been using it, I'm seeing a drastic increase of followers, and most importantly.. they're related to my interests! What's the point of followers if they have no interest following your or vice versa.
Let me know if you have any questions of have any feedback to this review. I hope you enjoy Bird Feeder.. I definitely do.