The last few weeks I've been doing some heavy research on how to increase my backlinks and to improve my overall organic traffic to various hub blogs and store fronts. In the past, I would Google my keyword and see if there were opportunities to submit a backlink, etc. The problem with this technique is that it takes so much time to find these sites, track these sites and to submit comments. I've been on a real kick lately on how to automate process and be more productive with my time.
To address this problem, I recently purchased Blog Comment Demon by EdwinSoft. I've read a few sites / markters that use this. They were all impressed, so I thought I would give it a shot. I have to say, it's pretty dang awesome.  THIS IS NOT A BLACKHAT TOOL, but a simple blog discovery and management tool. This will not automatically post gibberish across the internet spewing your backlinks, but it's a tool where you can do keyword searches and find blogs related to your search.
The program searches for blogs related to your keyword(s) and returns you a list of blogs to choose from. It provides you great information such as dofollow vs. nofollow sites, page rank, outbound links, etc. There is a built in browser in the tool, so simply double clicking one of the results will open the site in the browser below where you can read the post and contribute to the discussion (while providing a backlink).
One thing that I liked immediately, is that you can create 'projects'. Meaning if I do a search for a keyword, I can store that search result and add to it later down the road. This speeds the process of finding niche type blogs immensely. It will record the 'submit' date of your comment. You can also check to see if blogs approved your comments. By setting up projects you can create category / project groups for your niche sites and add this to your daily schedule. I can't wait till I can get a assistant to start working this tool (I can dream can't I?).
Below is a screen shot of the search result screen showing 'DoFollow' blogs. This screen shot also shows additional column headings (Type of blog, TLD Page Rank, Tag, Number of Comments and Outgoing links). All useful information when finding great blogs.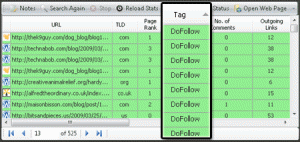 Blog Comment Demon in my opinion is a fantastic tool and a must have. The cost is only $47.00 for the tool. The software interface is well written and is easy to use. Definitely my hats off to EdwinSoft for producing a slick program. If you're into increasing your backlink counts, this is the tool for you. I also have a eBook that describes in great detail all the features about Blog Comment Demon, please download it and give it a look. If you purchase this program, and have any questions, I'll be more than happy to help if I can.