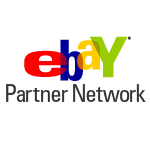 A visitor brought this to my attention a few days ago. He was currently running YSM campaigns for EPN sites, and received a email from EPN stating that they were receiving traffic from eBay hosted sites.
eBay currently displays Yahoo Publisher ads on their site, so it's important to understand that if you're running YSM campaigns, you need to block eBay hosted domains so your ads do not appear on their sites. I personally did this a while ago, but only for the shop.ebay.com domain, so I made a modification and added the other domains.
Here is the actual EPN rule/policy
Per  Section (b)(1)(viii) of the eBay Advertiser Terms and Conditions:
All eBay Programs disallow redirecting end users from the eBay website to an Affiliate's website where one of the possible outcomes of this redirection is that the end user clicks back to the eBay website via a Link that places a cookie for the Affiliate.
This is the list of domains that should be added to your Blocked Domains on your PPC search campaigns:
ebay.com
ebay.com.au
ebay.be
ebay.ca
ebay.fr
ebayanuncios.es/ebay
ebay.de
ebay.at
ebay.com.hk
ebay.in
ebay.ie
ebay.it
ebay.com.my
ebay.nl
pages.ebay.com/nz
ebay.ph
ebay.pl
ebay.com.sg
ebay.ch
ebay.co.uk
ebay.chodientu.vn
tradera.com
shopping.sanook.com
gittigidiyor.com
eachnet.com
ruten.com.tw
mercadolibre.com.ar
mercadolivre.com.br
mercadolibre.com.mx
auction.co.kr/default.html
half.ebay.com
kijiji.com
www.microplace.com
www.paypal.com/ebay
prostores.com
rent.com
shopping.com
skype.com
stubhub.com
stumbleupon.com
To do this is in YSM, simply log into your account. Click Administration and then click on the Blocked Domains link. You'll be able to do a bulk add to include the full list. Michael.. thanks for pointing this out!