Some of you following along with the blog are aware that I've been on a buying spree lately for internet marketing tools. I'm a strong believer of "it takes money to make money", and I've been trying to find ways to maximize my time and efforts, and tools are vital to this. Lately, I've been on a big SEO (Search Engine Optimization) kick, and finding ways to drive organic, targeted traffic to my sites.
I recently purchased Blog Comment Demon which is fantastic and Bird Feeder for Twitter followers, but I also needed a tool to help gauge and provide as much information about how my sites ranks with various keywords. This is where SEO Elite comes in. After several recommendations from friends/associates as well as reading some posts on Digital Point, I figured this was the next tool in my tool box I needed.
I'm currently using SEO Elite for two large purposes, while I discover and maximize other features. I'm primarily using SEO Elite to determine how my site ranks with the keywords I have chosen with Google's keyword tool. The second area I use is to view other sites that compete with me and see how they rank on similar keywords. By doing so, I can potentially find where they're backlinked.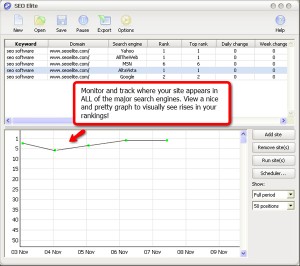 SEO Elite also has some great tools similar to Blog Comment Demon for finding blogs and other potential linking sites.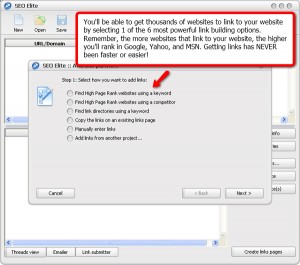 Another key feature, but I haven't worked on this yet, is to be able to submit articles to article directories with a centralized tool. Part of streamlining things is staying organized, and that's my goal for July is to establish a 'process' and work a 'plan' for SEO to my sites. By using tools to help organize, centralize and optimize I feel this will help in the big picture of my internet marketing ventures.
I would highly recommend purchasing SEO Elite. It's a quality product with tons of video and audio tutorials. I'm just scratching the surface and I'm thoroughly impressed with this piece of software by Brad Callen. If you purchase this, and have any questions, I'll be more than happy to try to help you out.